Stainless steel revitalizer
Autoclaves, surgical instruments, trays, basins and case carts
PROFISEPT®SHINE FOAM is an efficient and quick foaming revitalizing solution. PROFISEPT®SHINE FOAM removes rust, stains and corrosion, as well as mineral and alkaline deposits impregnated on the inside walls of autoclaves and from stainless steel parts and plates.
The application of PROFISEPT®SHINE FOAM in the form of foam allows longer contact of the product with the surface on which it is applied, thus allowing a more effective penetration and cleaning.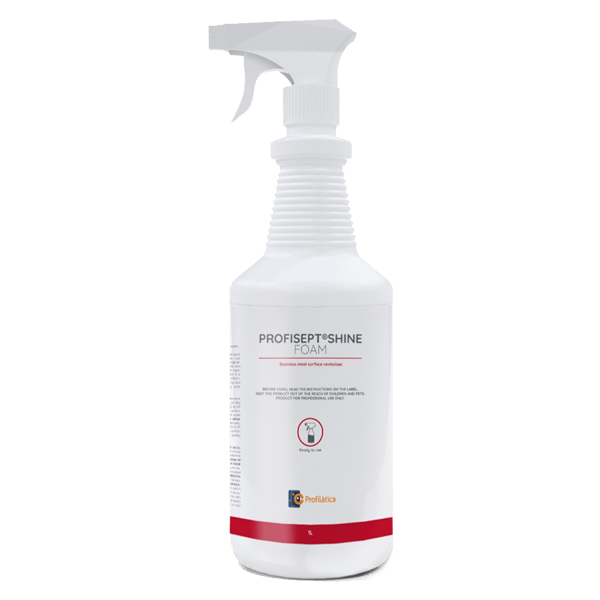 PROFISEPT®SHINE FOAM is easily removed from the surface by rinsing and leaves no residue. The non-aerosol pump is environmentally safe. Non-corrosive for stainless steel materials.
Cleaning in ultrasonic vats;
Maintains carts and trays looking new;
The foam applied remains on the walls longer for improved penetration;
Non-corrosive; it will not harm the quality of stainless steel;
Removes alkaline scale deposits and mineral incrustations;
The routine use helps to maintain the useful life of the stainless steel;
Remove traces of proteins, iron oxide deposits and other oxide and water stains;
Restores the original shine of the internal chamber of autoclaves, carts and trays;
Removes rust, stains and corrosion from the walls of autoclave and stainless-steel carts, trays and instrument baskets.
Restorer and revitalizer of inner chambers of autoclaves. It is also suitable for removing stains on stainless steel carts and instrument baskets.
Stainless steel surface revitalizer.
Phosphoric acid, non-ionic detergent, stabilizer and water.