LIQUID FOR ROOT CANALS RINSING
PROFISEPT® IRRIGANT is a 5% sodium hypochlorite solution used during root canal treatment. It concerns main root canal and lateral canals which are inaccessible for the intruments.
Has cleansing and whitening effect on the tooth hard tissues. Also has a lytic effect in relation with dead and vivid issue, dissolving organic part of smear layer.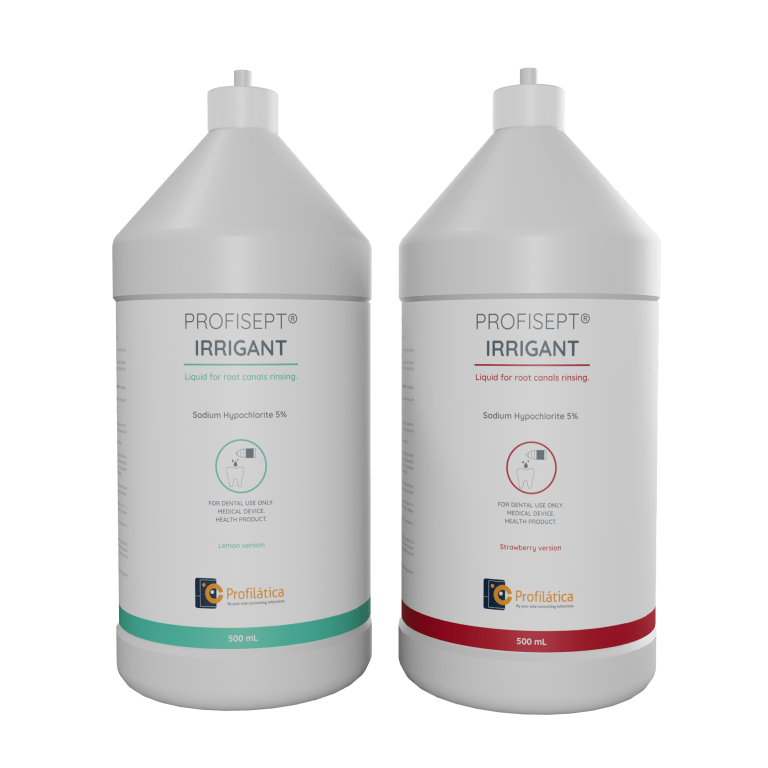 Ready-to-use solution.
Cleans the canal, removes the smear layer in order to expose dentinal tubule orifices before canal filling.
Prevents from the teeth discoloration that might occur after filling.
Open the pulp cavity, remove the content to expose the root canal orifices.
Rinse initially with sodium hypochlorite.
Remove the inflamed pulp from a root canal. 4. Rinse copiously with sodium hypochlorite, simultaneously prepare the canal mechanically. Insert the liquid into the root canal by means of the syringe with needle with side portal.
Liquid together with canal content aspirate by means of Endo-aspirator.
Ready-to-use liquid in two flavors: Strawberry and Lemon.
Sodium Hypochlorite (5,25% of active chlorine), water.